Long-Lasting Dental Implants in Scottsdale, AZ
Long-Lasting Dental Implants in Scottsdale, AZ
Written By AccuCare Dental Centers, PC on October 25, 2021
---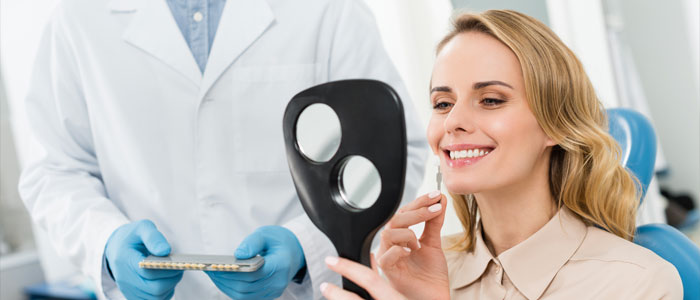 AccuCare Dental Centers, based in Scottsdale, provides quality dental implants for patients. If you are interested in getting a dental implant, you may have a lot of questions. What does insurance cover? How long does the process take? Our team is always available to answer your questions to make the dental implant process as easy as possible.
Dental Implants: The Next Best Thing to Natural Teeth
While tooth-supported bridges only last an average of seven years, dental implants are built to last forever. If you have gaps in your teeth, dental implants are the most practical and long-lasting solution.
Dental implants are titanium posts placed right into the jawbone. They feel, look, and act like natural teeth. Once the process is done, patients can hardly tell they have an implant—and neither can anybody else! To the naked eye, dental implants blend in perfectly with your surrounding teeth to give you a full, white, beautiful smile.
Reasons to Get Dental Implants
Enjoy your smile again. Many patients tell us that they are afraid to smile with gaps in their teeth. Quality dental implants allow our patients to smile and feel confident again.
Protect your bones and gums. Getting dental implants prevents areas of your jawbone from deteriorating and stimulates growth to prevent future loss. Spaces in your mouth can cause other teeth to displace themselves, which is why filling the gap is extremely important to keeping your teeth and mouth healthy.
Dental implants are very durable. AccuCare Dental Centers uses only the highest quality tools and dental implants to keep your smile lasting for years. Dental implants are built to last a lifetime with proper care.
Choose AccuCare Dental Centers in Scottsdale for Implants
Our expert team has more than 33 years of experience. From routine exams to dental implants, we are Scottsdale's first choice for dental care.
Call our office today at (480) 998-8073 to schedule a consultation appointment. We look forward to brightening your smile!